Top2Toe Massage
Carol Atherton-Hoy, Massage Therapist - come and escape from stress!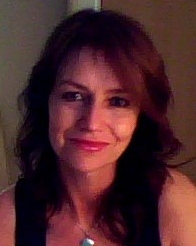 Carol Atherton-Hoy
carolatherton-hoy@live.co.uk
Mobile: 07796 814234
Your Experience
Take time out, an hour a week, or whenever you can, to refresh yourself, recover, and rejuvenate. Do remember to
check out the special-offers.php
page and take advantage of current money saving offers.
Testimonials
"Just some feedback - the pain has completely gone for now not even niggling. It was a great session and I truly appreciate your work. I will give you a call next week to book in. Thanks. PS I have seen numerous therapists but you have been the best by far and actually sorted the problem twice now". - SL Blackburn
"I met Carol at the Manchester 10K 2015 and not only did she give me an absolutely fantastic massage - I saw her before and after the event, but she immediately put me at my ease and really helped with my pre nerves and the result is that I did the best time ever this year and I told her that if I did, that I would put it all down to her massage. I am now hooked and I will most definitely be a regular client. Thanks so much Carol" NP Bury
"I hadn't seen Carol for some months but having visited recently I had forgotten how good she is. As a regular massage goer I have seen some therapists considered to be amongst the best in the north west but Carol's style is unique, to me at least and on another level. She is beautiful and exudes health and wellbeing and is also good company. I can't recommend her highly enough and I won't leave it so long before I call again". - PH Manchester
"Thank you for giving me such a lovely and relaxing massage" - JE Manchester
"It felt really lovely just to have some time for myself and I felt so rested afterwards - CE Stockport
"I felt the benefits of your massage during yesterday's yoga, able to feel every part of my body during class - thanks again" - MF Bury
"Thank you for the massage today. It was 12 out of 10" - JW Brooklands
"I just wanted to say thank you again for a wonderful massage.
It really was a lovely treat" - DS Stockport
"Just to say a big thank you. I really enjoyed it. Just feel like sleeping" - CB Poynton
"Slept like a log and feel like I have new legs" - DC Chiswick
"Thank you Carol once again for an incredible massage" - CK Manchester
"Thanks Carol, a great lady and you put me at my ease, years since I had one but it was brilliant" - PD Ashton
"Thank you Carol for a lovely massage, and see you soon"
- KC Saddleworth
"This is the best thing I have done since Christmas" - AH Manchester City Centre
"Thanks again it was a great massage, really enjoyed it, loved your style" - JR Alsager
"Absolutely brilliant" PT - Bury
"Absolutely magnificent!!" - PT Bury
"Slept a full eight hours last night for the first time in years and all aches and pains from last weekend have vanished. Thanks again. See you soon". - RM Worsley
Massage should be a way of life
If any of the following applies to you then you have come to the right place:-
In need of a lifestyle change.
Want better balance in your life.
Suffer with depression and anxiety.
Get tired easily and lack energy.
Need to de-stress.
Have general aches and pains.
Suffer with headaches and tension.
Get tight muscles.
Sleep badly or have poor quality sleep.
Could do with a general pamper.
About Us
Based in Heaton Mersey on the border of Didsbury, Carol Atherton-Hoy offers massage therapy to both male and female clients throughout Manchester, Stockport and the surrounding areas.
She is a member of The Federation of Holistic Therapists and has full Professional Liability Insurance with HISCOX Insurance. She is also an associate of bodysense@work ltd (www.bodysenseatwork.co.uk).
Qualified in 1993, Carol has 18 years of experience in the massage therapy sector, and truly believes that massage can play a huge part in everyone's healthcare regimen.
Massage may be sought for many reasons such as for pain relief, stress relief, general well being or for a general pamper. Carol will ensure that a full consultation is carried out prior to any treatment, to ensure that it is safe to proceed and also to ensure that clients' personal needs and requirements are met. Carol also offers on-site chair massage in organisational settings, as office workers are particularly susceptible to stress and repetitive strain injury (RSI).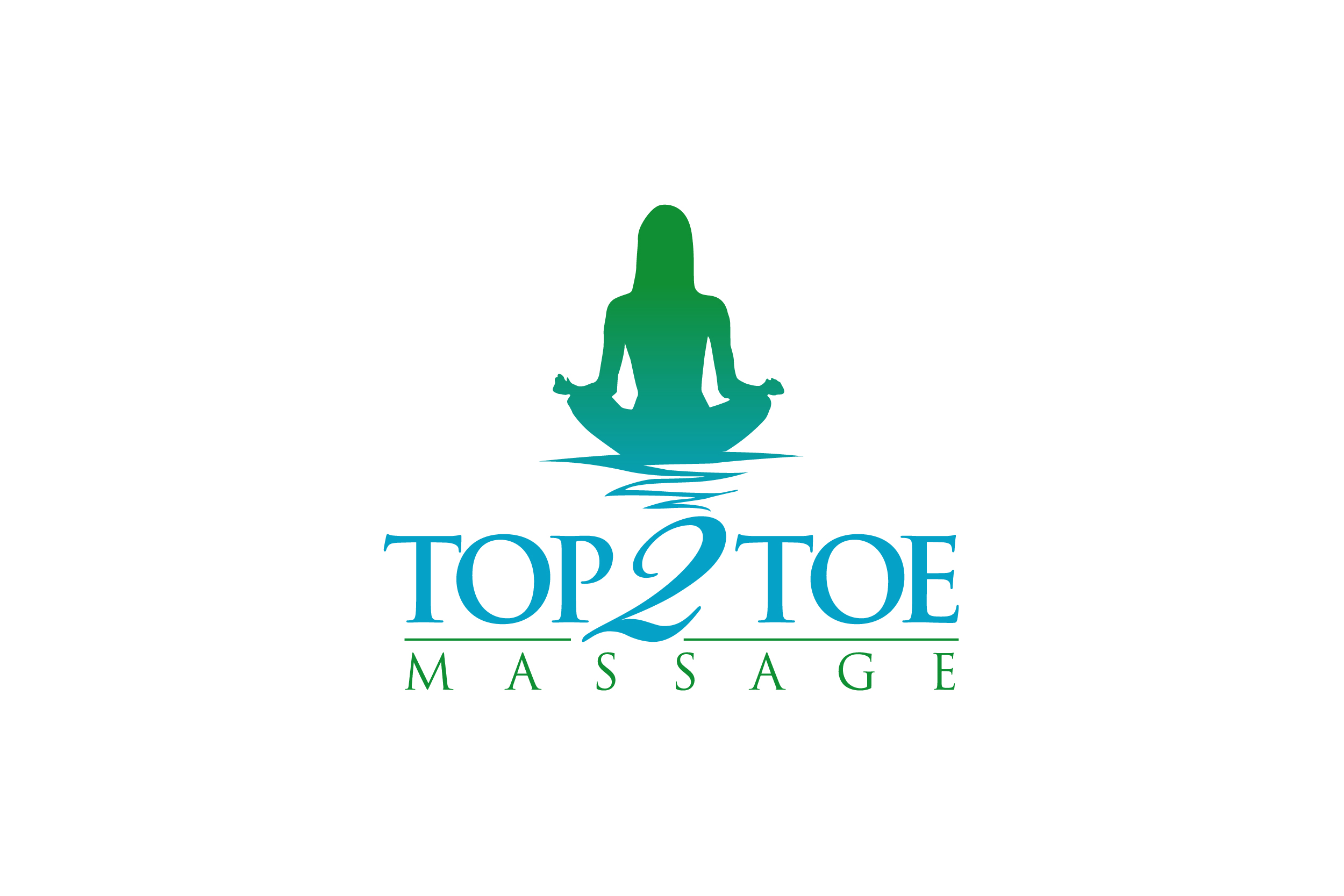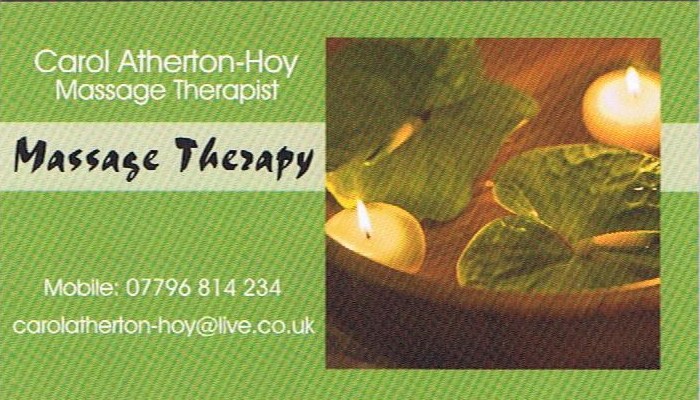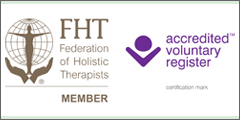 "Amazing lady. I live in London and have had numerous massages over the years but never found anyone who comes even close to matching Carol. It feels like she knows my body absolutely and totally and she instinctively knows what I need. Every time I travel up for work, I have to book in and knowing that I am coming for a massage session with Carol is the only thing that keeps me sane on the drive up. Love her to bits" CD - London"Perfect vigorous pressure and depth, yet so relaxing and soothing! I've had regular massage for the past 15 years, but I can honestly say that that was one of the best ever, if not the best! Many thanks...till next time. - DH Manchester"
"Carol, once again many thanks for a superb massage, and I really do feel totally different than I did at 10:30 this morning. I feel more relaxed, and have far greater movement in my shoulders" - JK Didsbury
"Thanks again Carol for another great relaxing massage. Your magic hands really do work wonders. You are a friendly, attractive lady who immediately puts the customer at ease. 12 out of 10" - TP Manchester
"Thanks for amazing massage, slept nearly ten hours :-) - DC Manchester
Massage Greater Manchester, Massage Stockport, Massage Heaton Mersey, Massage Wilmslow, Massage Hale, Massage Altrincham, Massage Oldham, Massage Bolton, Massage Prestwich, Massage Knutsford, Massage Hale, Massage Prestbury, Massage Alderley Edge, Massage Trafford, Massage Timperley, Massage Withington, Massage West Didsbury, Massage Fallowfield, Massage Salford, Massage Wythenshawe, Head massage Manchester, Massage North West, Massage Lancashire, Massage Cheshire, Massage Greater Manchester, Massage Therapy Manchester, Body Massage Manchester, Massage therapy Manchester, Massage Therapist Manchester, Masseuse Manchester, Fully body massage Manchester, Sports Massage Manchester, Foot massage Manchester, Head massage Manchester, Corporate massage Manchester, Chair massage Manchester, On site massage Manchester, gift vouchers Manchester, Carol Atherton-Hoy, Relaxation massage, Pamper massage, hand massage Manchester
Heaton Mersey, Stockport Tel: 07796814234